This is a Sponsored post written by me on behalf of Pompeian for SocialSpark. All opinions are 100% mine.
Tomato Quinoa Salad dressed with Roasted Garlic and Herb Homemade Vinaigrette is a great summer recipe. This Salad and Homemade Dressing is healthy, gluten free and bursting with flavor!
This is the perfect time to make Homemade Vinaigrette because May is National Vinegar Month and National Salad Month!
I personally do not need a reason to enjoy vinegar. I could drink the stuff!
Celebrate the return of spring produce with a fresh salad. For an extra punch of flavor, make this Homemade Dressing with Pompeian Red Wine Vinegar.
This dressing is for all the garlic lovers out there. It is full of Roasted Garlic, Fresh Parsley and Thyme!
This Tomato Quinoa Salad is a fantastic cold summer salad. Serve it as a side dish at your next barbeque.
#DressingItUp
For additional recipe ideas, you can visit the Pompeian website.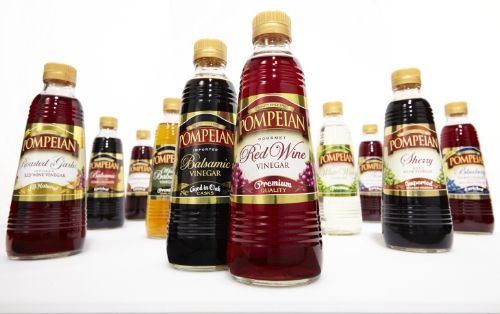 Join My Wonky Wonderful World and Never Miss a Recipe! Subscribe:
Email ::: Facebook ::: Twitter ::: Pinterest ::: G+ ::: Instagram ::: BlogLovin' ::: Rss
Roasted Garlic & Tomato Quinoa Salad
2014-05-27 21:37:13
Dressing
1/4 Cup Pompeian Red Wine Vinegar
1/2 Cup Pompeian Olive Oil
10 Roasted Garlic Cloves - finely chopped
1 teaspoon Fresh Italian Parsley – finely chopped
1/4 teaspoon Fresh Thyme
1/8 teaspoon Fresh Cracked Pepper
1/8 teaspoon Himalayan or Sea Salt
1 teaspoon Honey
1 teaspoon Fresh Lemon Juice
Quinoa Salad
10 Grape Tomatoes - sliced in half
10 Sunburst Tomatoes - sliced in half
1 Cup Cooked White Quinoa (prepare according to package instructions)
Salt & Pepper (to taste)
Dressing
Mix all vinegarette ingredients in a sealable container (such as a glass mason jar). Seal container and shake vigorously before serving.
Quinoa Salad
Combine tomatoes and cooked white quinoa. Dress quinoa and tomatoes with your preferred amount of Roasted Garlic Dressing.
Notes
Dressing recipe yields 1 cup. Refrigerate unused dressing and use within 3 days.
Makes 1½ cups Quinoa Salad.
WonkyWonderful https://wonkywonderful.com/
Check out Pompeian on: Facebook, Twitter, Pinterest, Instagram or Pompeian.com